Currency Select operates an end-to-end acquirer processing platform that is able to authorise, clear and settle card transactions for Visa, MasterCard, UnionPay, American Express, JCB, Diners Club, Discover and eftpos Australia card schemes, including Dynamic Currency Conversion (DCC) and Multi-Currency Processing (MCP) cross-border transactions. Our FX engine can also provide "front-end" DCC and MCP qualification services to merchants, PSPs, acquirers and card schemes who cater for their own transaction processing.
We possess direct authorisation and clearing pathways with Visa, MasterCard, UnionPay and American Express and are not reliant on any 3rd parties for fulfilling card scheme gateway processing. In fact, we can and do act as a card scheme gateway processor for acquirers who prefer to outsource rather than build and operate.
We operate a robust "mission critical" transaction processing environment with primary and secondary data centre locations, supported by fully redundant utility services for telecommunications, Internet connectivity and electricity. We use the latest technologies and best practices, and employ a highly experienced and expert team of industry, payments and IT specialists. Our networks, environments and operations meet all of the industry standards for security, including PCI-DSS, and are protected from unauthorised penetration.
Our core applications imPulse (DCC, MCP qualification), TPII (authorisation) and CMS (clearing and settlement) are developed in C and Java and operate on Linux/Oracle platforms. Our IT specialists develop, maintain and enhance our core application logic to meet diverse and challenging business requirements.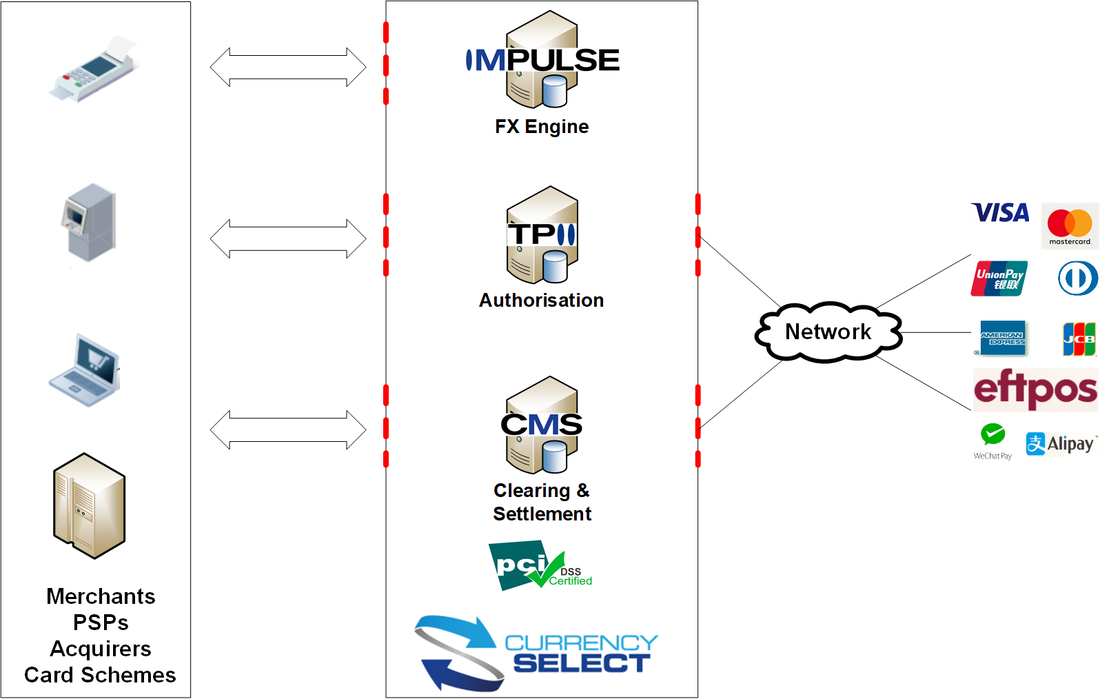 We can separate our core application platforms to provide a menu of services to acquirers depending on the business needs. We can also develop custom solutions that provide unique and/or tailored functionality. Above all, having developed and operated our platform from the ground up, we are intimate with the business and technology of acquirer processing, especially as it relates to DCC and MCP cross-border transactions, and also to the industry sectors in which we specialise.
Contact us here for a confidential and obligation free discussion about your acquirer processing needs.