Currency Select is a hotel sector specialist and has been offering integrated payment solutions for the Hotel and Accomodation sector in Australia for many years. Currency Select has developed a specific integrated payment solution for Oracle's Opera Property Management System (PMS) and Simphony Food-and-Beverage Point-of-Sale (POS) systems for both card-present and card-not-present (CNP) transactions.
But unlike all other acquirer offerings, Currency Select uses a "host-to-host" (h2h) pathway between the Oracle Payment Gateway (OPG) and the Currency Select acquirer processing host to carry CNP transactions rather than a physical payment terminal pathway. A dedicated h2h pathway eliminates the need for merchants to purchase/rent additional physical payment terminals to act as a "gateway" for CNP transactions, and therefore provides a more robust and cost-effective solution for merchants. The h2h pathway also permits CNP transactions to be simultaneously submitted from any PC client workstation that is running Opera, and does not suffer from the limitation of a physical payment terminal only permitting one transaction at a time.
Currency Select also provides settlement information directly from the acquiring platform to Oracle to enable the merchant to balance and reconcile. Because the data is sourced directly from Currency Select's acquiring platform, the merchant is assurred of its accuracy. As a result of this tight integration between Currency Select and Oracle for payments, Currency Select has established a deep and intimate understanding of the business, technical and operational needs of the hotel sector.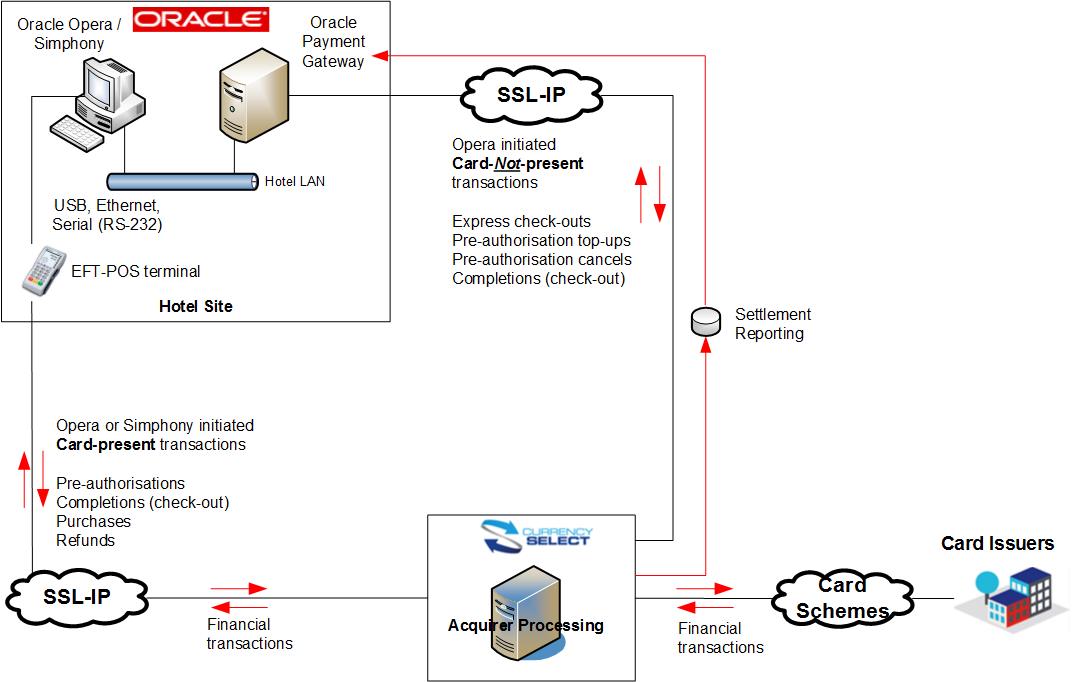 Our integrated payment solution incorporates the same functionality and service benefits available when our payment terminals are used "stand-alone", including:
Payment terminal provision, installation and support.
Payment gateway provisioning.
Transaction processing for Visa, MasterCard, UnionPay, EFTPOS, American Express, Diners and JCB cards.
24x7x365 network operations and customer care help desk support.
Next day funds settlement.
Monthly fee debit in arrears.
"Cost of Acceptance" reporting to meet Reserve Bank of Australia (RBA) standards.
Merchant reporting (including custom reporting capability).
Ongoing training and DCC "opt-in" performance management.
Dispute administration.
The combination of hotel "must-haves" such as support for UnionPay cards and Dynamic Currency Conversion with fully integrated payment has helped our integrated payment solution for Opera and Simphony to become the leading and preferred solution for Australian hotels.
Furthermore, we provide on-site installation and training support for key merchants, and ongoing training and support for all merchants. Over many years, our Customer Care and Relationship Management teams have developed a unique insight into the challenges and opportunities of the hotel sector. If you are an Australian hotel using Oracle Opera and/or Simphony and are interested in the benefits of integrated payments, please contact us for a confidential discussion about your needs.