Solutions and Services
Currency Select is a specialist in the business and technology of card payment acceptance, especially where cross-border transactions are concerned.
We provide processing solutions to two distinct marketplaces:
Merchants that accept card payments in Australia (our "Direct" business).
Merchants, Payment Service Providers (PSPs), acquirers and card schemes globally (our "Outsourcing" business).
For our Australian merchants, we offer an end-to-end, "all cards accepted" merchant facility for both POS and e-Commerce acceptance channels. We fulfill the entire process including:
Payment terminal provision, installation and support.
Transaction processing for Visa, MasterCard, UnionPay, EFTPOS, American Express, Diners and JCB cards.
24x7x365 network operations and customer care help desk support.
Next day funds settlement.
Monthly fee debit in arrears.
"Cost of Acceptance" reporting to meet Reserve Bank of Australia (RBA) standards.
Merchant reporting (including custom reporting capability).
Ongoing training and DCC "opt-in" performance management.
Dispute administration.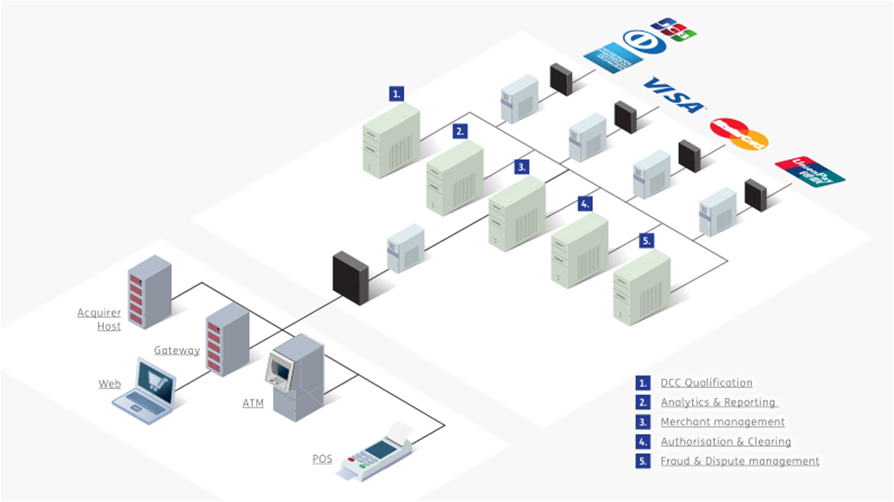 We are market leading specialists in the hotel/accomodation and education sectors. We pay DCC rebates to participating merchants for cross-border transactions where the cardholder has elected to accept a DCC foreign exchange offer.
For our outsourced processing customers, we offer an end-to-end acquirer processing solution for POS, e-Commerce and ATM channels, including:
"Front-end" DCC and MCP qualification processing, including an online interface for obtaining foreign currency rates and determining DCC and/or MCP eligibility.
"Back-end" DCC and MCP transaction authorisation, clearing and settlement processing for Visa, MasterCard and UnionPay transactions.
Comprehensive standard and custom reporting.
Dispute administration processing and services.
Expert advice and guidance in designing a DCC or MCP solution architecture.
DCC "opt-in" performance assistance and training (subject to business case).
Our platform accepts transactions from physical terminals, gateways, hosts and networks, and can process authorisation, clearing and settlement in any combination of currency (as long as those currencies are supported by the participating acquirer and card scheme). Because we own and/or control the software development for all of our core applications, we are flexible to respond to virtually any business requirement. As a processor, we have processing online, real-time transactions non-stop since we founded in 2000, and have a proven track record for uptime, reliability, security and responsiveness.
So if you are an Australian merchant seeking a merchant facility, or an international merchant, PSP, acquirer or card scheme looking for a card payment acceptance solution, please contact us for a confidential discussion about your requirements.