Currency Select offers an "all cards accepted" merchant services solution to Australian merchants. Although we cater for all merchant categories, we are sector specialists in the hotel, accomodation, tourism, travel and education sectors.
We support both POS and e-Commerce acceptance channels, and incorporate Dynamic Currency Conversion (DCC) or Multi-Currency Processing (MCP) capability as standard. Please download our "Welcome to DCC" booklet for our Australian merchants here.
We fulfill the entire process including:
Payment terminal provision, installation and support.
Payment gateway provisioning.
Transaction processing for Visa, MasterCard, UnionPay, EFTPOS, American Express, Diners and JCB cards.
24x7x365 network operations and customer care help desk support.
Next day funds settlement.
Monthly fee debit in arrears.
"Cost of Acceptance" reporting to meet Reserve Bank of Australia (RBA) standards.
Merchant reporting (including custom reporting capability).
Ongoing training and DCC "opt-in" performance management.
Dispute administration.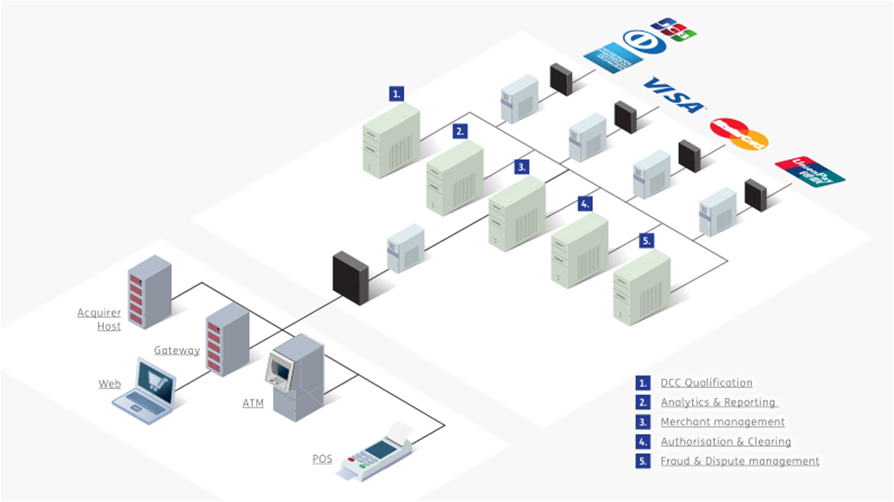 Because we own and/or control our platform "end-to-end", we can tailor our offering to meet demanding requirements and evolve with our customers to address ongoing challenges and opportunities. Our reliance on 3rd parties is limited and we possess significant industry, payments and IT expertise to support our offering.
Please contact us for a confidential assessment of your card acceptance requirements today.